Weddings at Barony Castle
A warm welcome awaits you at this historic venue that over the years has been renowned for its banquets and lavish events. It offers indoor and outdoor spaces including a 16th century altar, events spaces and a conservatory.
Whether it's your reception, ceremony or both we will tailor your day to make it as individual, special and memorable as you have always dreamed.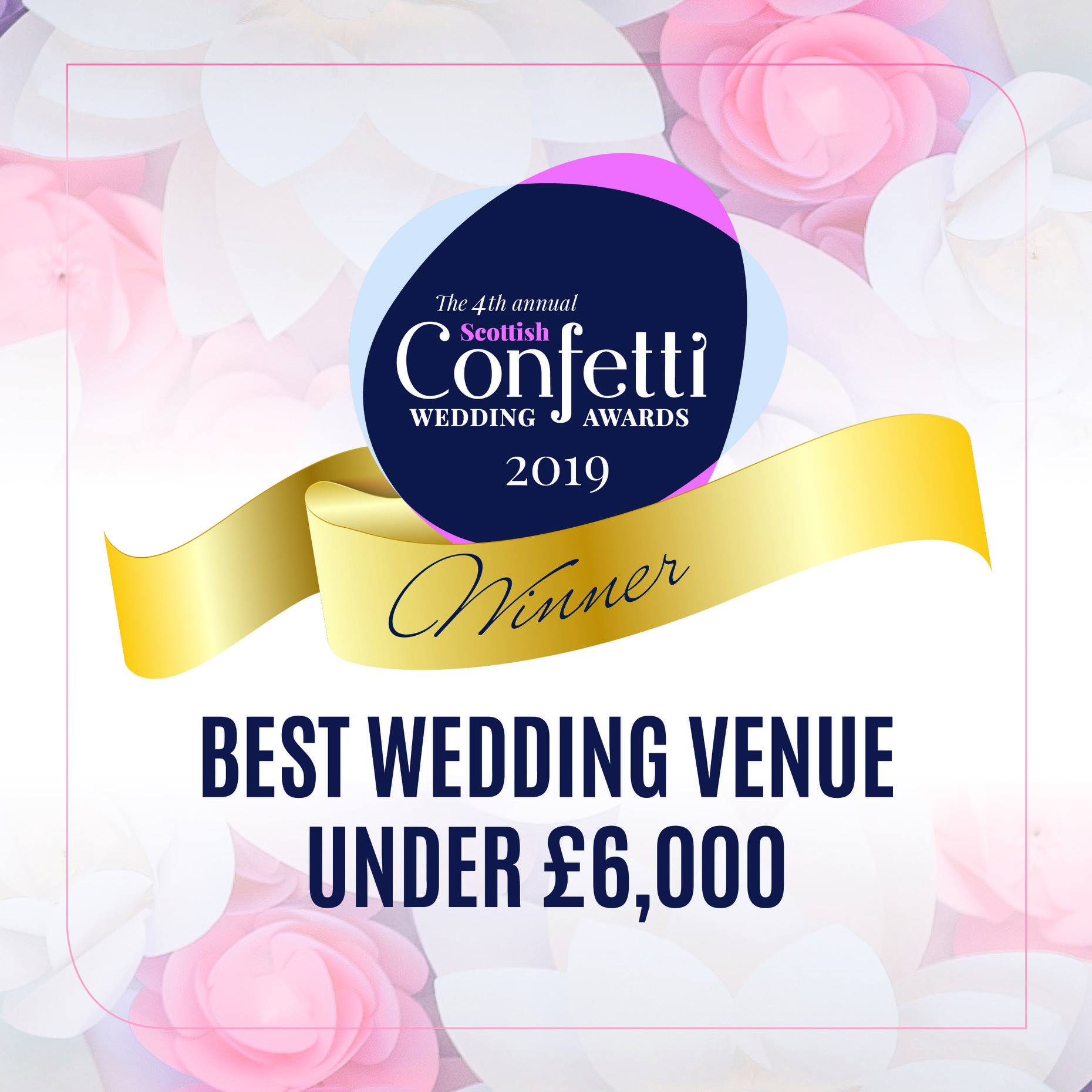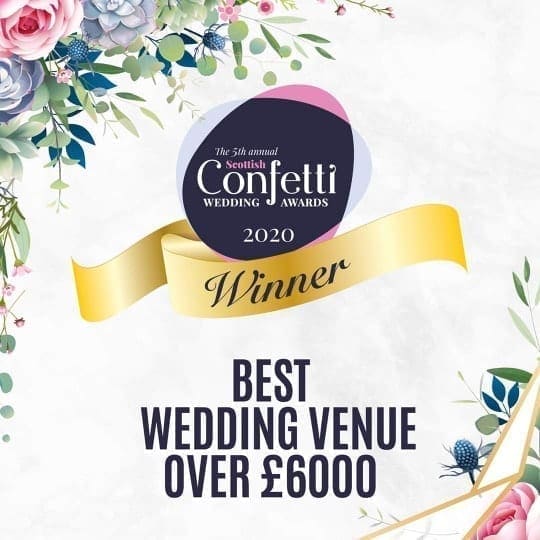 YOUR WEDDING MORNING
A relaxing start while you are pampered and get ready for your special day. Enjoy breakfast within your room with a glass of fizz shared with your bridesmaids, family or groomsmen.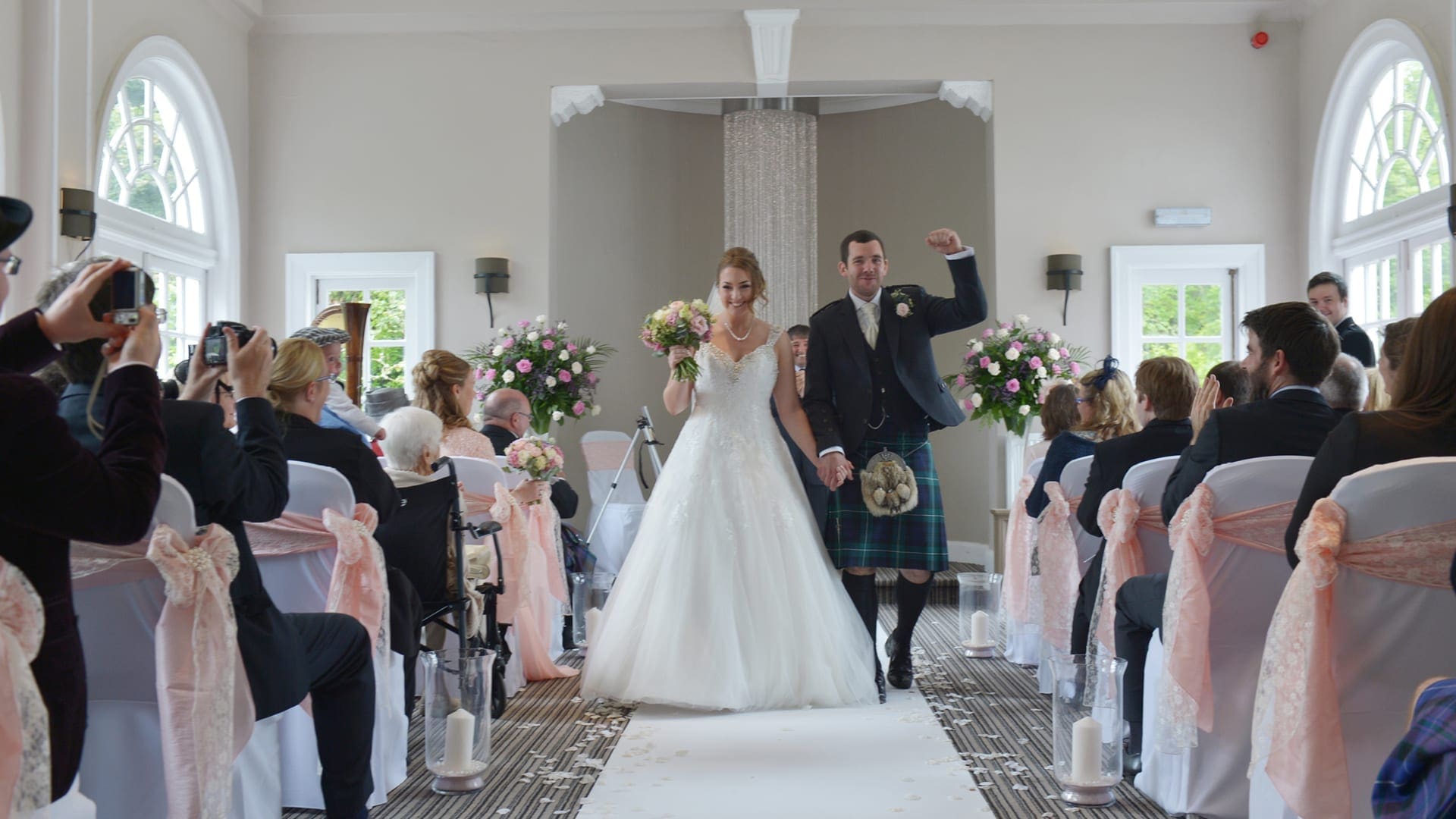 EVENT SPACES
We have a number of suites and outdoor spaces licensed to host your civil ceremony or partnership.
We can accommodate up to 100 guests for wedding breakfasts and 130 guests for evening receptions in our indoor suites.  For larger weddings of up to 250 guests, we can arrange a marquee on our lawns (additional charges apply).
THE ELIBANK SUITE
Our Elibank Suite is a truly stunning backdrop for your wedding ceremony, boasting floor to ceiling windows with neutral shades to compliment any colour scheme you choose.
The Elibank Suite is also an ideal location for smaller more intimate wedding breakfasts and evening receptions.
CAPACITY
Ceremony – 110
Drinks – 110
Wedding Breakfast – 60
Evening Reception – 60
THE MELDONS SUITE
The Meldons Suite is an ideal location for larger weddings.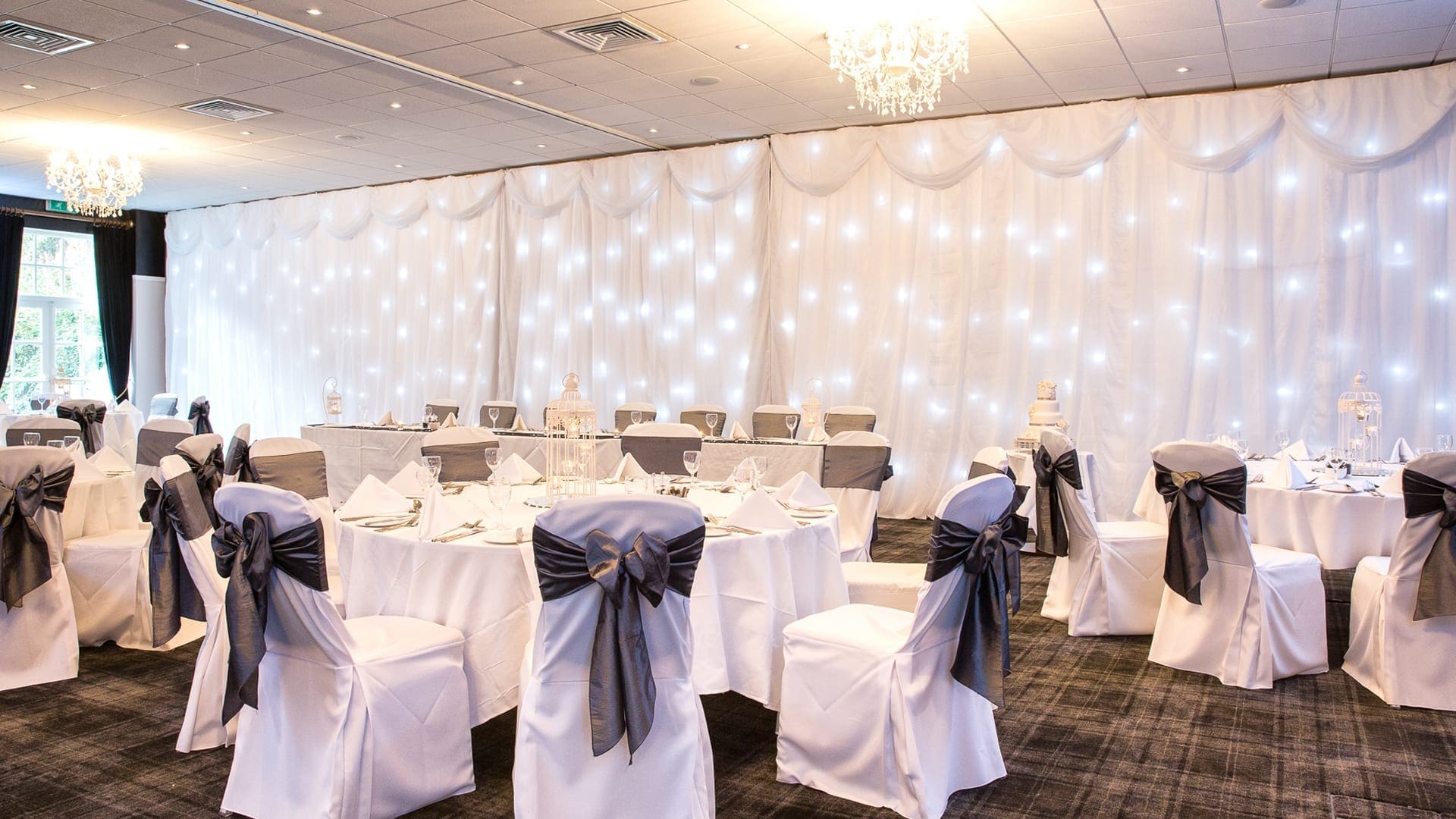 CAPACITY
Ceremony – 200
Drinks – 200
Wedding Breakfast – 110
Evening Reception – 130
THE COURTYARD
Enjoy your special day in the unpredictable Scottish sunshine.  Have your ceremony on one of our well manicured lawns in the shadow of the Castle. Surrounded by ancient Caledonian woodland, to the sound of fresh running water cascading from the Mill pond into the picturesque ravine.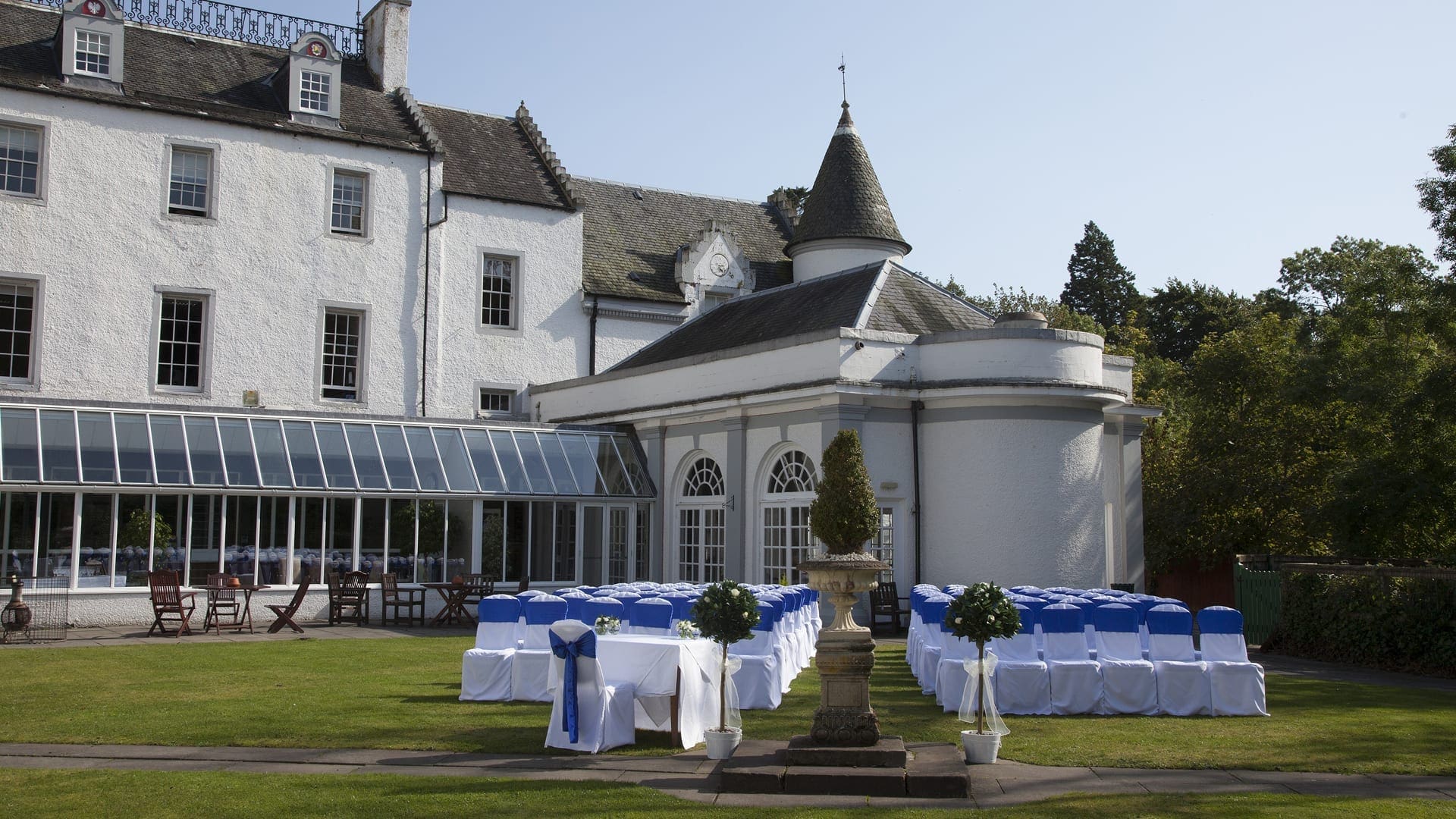 CAPACITY
Ceremony – 110
Drinks – 110
Wedding Breakfast – n/a
Evening Reception – n/a
THE ALTAR
A truly stunning alternative to the courtyard is our Altar at the foot of the magnificent Yew tree avenue.  Rebuilt on the site of an ancient 16th Century Pagan Altar.
CAPACITY
Ceremony – 24 seated plus 56 standing
Drinks – n/a
Wedding Breakfast – n/a
Evening Reception – n/a
MARQUEE
For larger weddings we can arrange for a marquee on our lawns.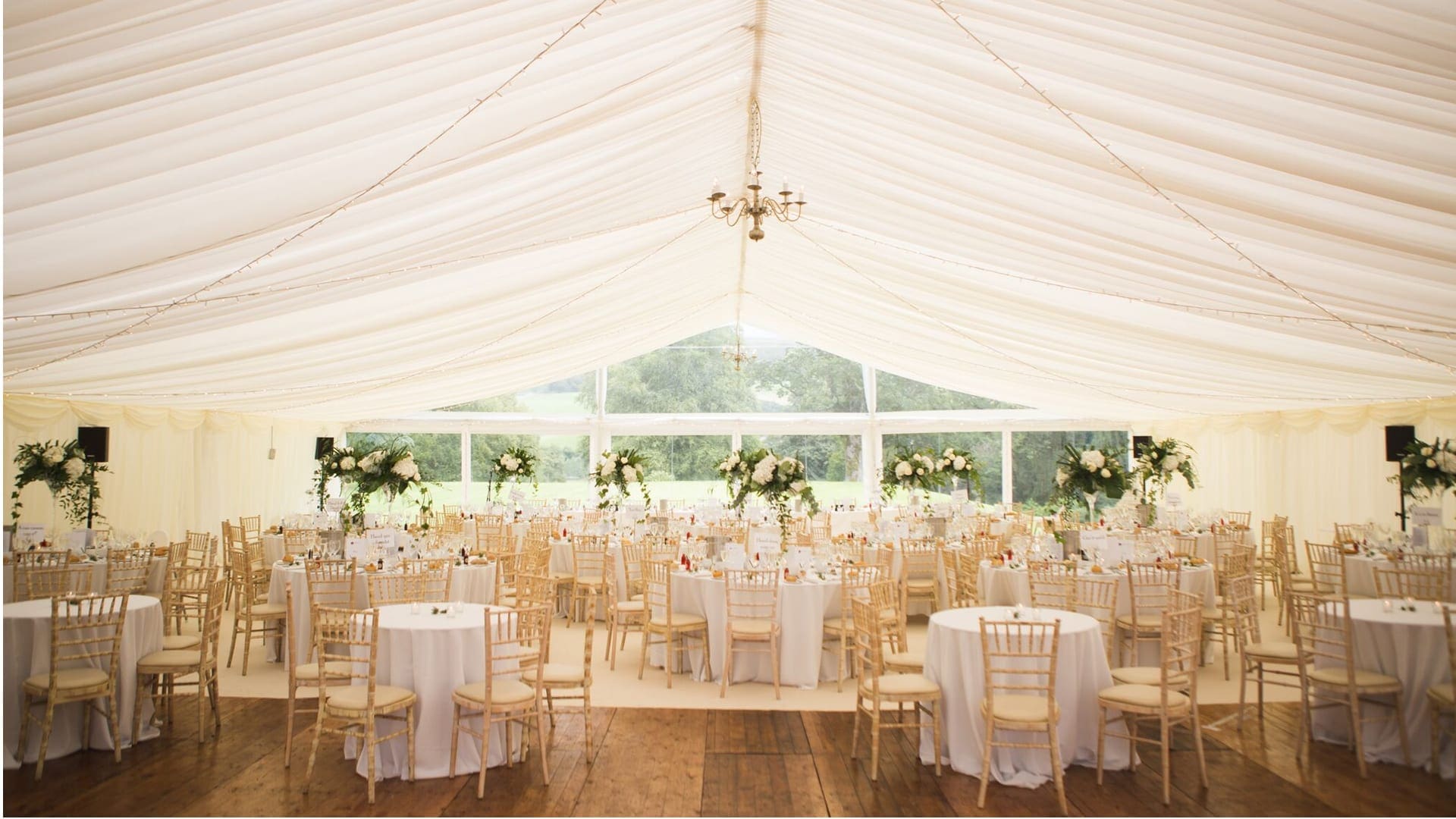 CAPACITY
Ceremony – up to 250
Drinks – up to 250
Wedding Breakfast – up to 250
Evening Reception – up to 250
Make your first dance extra special…
Whether you are already light on your toes or a complete beginner, we can help!
Download our PDF below for more information on wedding dance choreography with Meggy Viana.
PACKAGES & PRICING
We offer two wedding packages, each of which can be tailored to your exact requirements.
PDF copies of our brochures can be viewed online or downloaded using the links below.
For smaller or more intimate weddings, or for exclusive use, please see our brochures below.
Please complete our enquiry form giving as much information as possible and we will send you a personalised quotation.
PRACTICAL ARRANGEMENTS
After reserving your chosen suite, you will need to apply for permission with the local registration district. You may book the Registrar to conduct your Civil Ceremony or Partnership up to 24 months in advance of your proposed date.
We'll work with you to get all the necessary suppliers booked in for your date, plus any suites, rooms and beauty treatments you and your guests may require.
A FEW WORDS FROM OUR HAPPY COUPLES
If you're looking for a wedding venue I'd look no further than Barony Castle, 100% recommend !!!

Your staff are an asset they go above and beyond, nothing was any trouble !!

We got married here in July this year and honestly it was the best day of our life, from the venue to the staff everything was perfect. Michele honestly is amazing at what she does our day couldn't have went any better she made sure every single detail was taken care of and kept checking in on myself and my husband.

The food was outstanding and a big hit with our guests, so if you're looking for a good meal I'd recommend coming here too!!
We had the most amazing weekend and everything was just perfect. Nothing was too much of an ask and we just couldn't have had a better weekend! Please pass on to the Head chef and team that everyone raved about the BBQ and the wedding breakfast!!

We really appreciate everything you all did to make our guests feel so welcome and looked after despite the language barrier!
We had our sons wedding at this venue and were not left disappointed by anything. The attentive staff were wonderful and nothing was any bother for them. The food was first class quality and the portions were plentiful. If you are in the market for a venue that will stun your guests this is the one.
Thank you for all your help on our big day, we couldn't have done it without you! You're a star!
Can't thank you enough for arranging the fab event over the Bank Holiday. You did wonders with the weather to!
Where do we begin?? You have been amazing! We honestly cannot thank you enough for all your help and support through the planning of our wedding! We had the most amazing and perfect day and this was thanks to you and the team! We were made to feel like the most important people yesterday and loved every minute of it. Nothing we asked you for was too much and you honestly made sure every wish of ours was met! We cannot thank you enough for everything you done and we are so happy to have got to know you throughout the year! You were so friendly and made us feel so relaxed from our first meeting to our wedding day we felt we were dealing with a friend! We could not have asked for more! Today we met a couple who were being shown around who were considering the venue for their wedding. We recommended you so highly to them and could not stress enough how amazing our day was thanks to you guys. Massive thank you again!
We both had a wonderful day, communication throughout the whole process was perfect with prompt responses to emails, questions and phone calls.

Staff throughout the process were great very friendly and helpful, especially with the menu tasting and the chefs ability to accommodate lactose and gluten free into the existing menu. This was really enjoyed by all on the big day.

Your wedding coordinator Michelle was fantastic with to many positive comments to make. over the past 3 years planning this we have been through 2 different venues and to many wedding coordinators and she is the one that helped us make our wedding day the day we wanted.
Just to say thank you very much for helping us out together our big day. Both of us had the best day of our lives. You along with all the staff were superb. Jeanette was lovely, Steven worked his socks off , Tony is a credit to the bar, and the kitchen done fantastic. A lovely venue with lovely people. Thanks again
We had the most amazing wedding here and can't thank the staff enough for making it a day of our dreams. We were here for 4 days in total and had 110 guest staying over at the hotel for our wedding day. At every opportunity the hotel went out of their way to make the whole weekend amazing, from catering for a private dinner for 40 people on Friday, to going into town to get ice lollies for the children on our wedding day… everything was perfect. Thank you lovely staff at Barony Castle! We would recommend to any bride.
We wanted to say a huge Thank You to you and your team. We had an amazing day at Barony on 26th June, that went off without a hitch, despite the rainy Scottish weather! I am so grateful to you for understanding our vision and desire to have our ceremony down at the altar. It truly was magical and I couldn't have imagined getting married anywhere else. You worked tirelessly all day and your customer service, organisation and attention to detail in the lead up and on the day were excellent. You really helped it all come together. Our day was truly special and Barony Castle as a setting made it magical.
We really had an amazing day and you were all so helpful and instrumental in making that happen. We want to sincerely thank you all for your efforts. I know it can't be easy changing the ceremony around late in the day and it's very much appreciated. It made it the perfect day we had been hoping for – the avenue of trees was the reason we were so keen to get married at Barony castle so it was incredible to get married down there. Jeanette was wonderful and calm throughout – a fantastic presence to have around. The staff were all lovely and made sure to ask Stephen's parents later in the evening if everything was going as they'd hoped which was great, and Jeanette checked in with me on a few occasions through the day to make sure everything was fine. All of our friends and family are still talking about how brilliant it was. 'Magical', 'Fairy-tale' and 'stunning' are words we never get tired of hearing! Your efforts in working with us on decor were especially appreciated and it made the day feel very personal to us and our guests. The attention to dietary requirements was hugely appreciated and we want to thank the chef and kitchen staff for the delicious food! 'Best buffet ever at a wedding' was said, a lot! The meal was perfect and everyone enjoyed their food immensely. (poor me couldn't eat or drink much at all, but I really enjoyed what I did eat!)
Everything was so perfect and just the way I wanted it and Thankyou for all your support on the run up to the wedding! Please also thank Jeanette for all of the above too and all the other staff members that helped make our wedding perfect.

We had the most amazing day and so glad we chose Barony Castle as our venue.
Just writing to say thanks to you and all the staff for such great support and effort on Saturday. We had an amazing day and I'll be recommending Barony Castle to everyone I know who gets engaged! You guys made the day so enjoyable and stress free for us and we can't thank you enough.