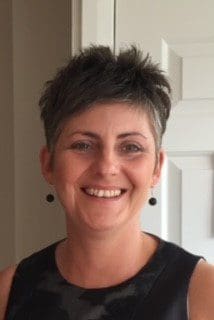 Our Wedding Co-ordinator at Barony Castle, Michele Thomson, was recently featured in an interview for 'Tie the Knot' magazine.  Read what she had to say here:-
Describe your role at the venue?
My day can vary from replying to new wedding enquiries, show rounds, wedding details meetings, answering brides and grooms emails and telephone calls, setting up weddings, ensuring table plans and  pre-orders are all ok, and ensuring that every box is ticked before a wedding so that all runs smooth and to the Bride and Grooms expectations.
How long have you been in the job? 
I have been working in hospitality for 30 years but have been at Barony Castle for 4 months.
Tell us what makes your venue such a great place to get married.
The setting, The Facilities and The People
How many weddings do you look after per year? 
60
Talk us through the average day in your working life? 
If I have a wedding that day, first thing I do is take a walk through the castle to see if all is set as it should be.  My day is focussed on the couple – ensuring everything is in place for the big day.  I then look at the emails, answer enquiries and anything else that needs attended to.  I check through function sheets of forthcoming weddings and carry out anything that still needs to be done, and chase up finer details.
How long roughly will you work with the average couple? 
From the initial enquiry to the after the wedding, this range from 3 months to 3 years.
What's the most challenging aspect of your job? 
Going home after the evening reception is in full swing.   I always tell myself that I will leave after cake cutting and first dance, but feel it is hard to tear myself away.
What's the most creative ceremony/reception you've ever worked on and how you did you help bring it to life? 
All weddings at the Castle are special and I help bring each and everyone to life as per their individual tastes.  Although we do have an wonderland meets Ibiza themed wedding coming up in the next few weeks and it has been a privilege being involved in the creatives and bring the Bride and Grooms visions to reality.
What advice do you have for future brides and grooms, based on your experience? 
Try not to stress on the day – and enjoy every minute your day goes by so fast.
How much involvement should couples come to expect from you in the run up to the wedding? 
As a wedding approaches, and everything is coming together, couples can expect 100% involvement from me.
What have you seen in the way of exciting entertainment and decor at your venue's weddings?
From Cinderella carriage table centres, dogs walking the bride down the aisle babies being pushed down the aisle in the cutest toy cars, caricature, magicians – I love how everyone is different!
How can couples make the most of their wedding coordinator, without going overboard? 
Talk to us and keep us up to date with the details that matter.
What kinds of questions should a couple be asking you at the first meeting? 
Put a list together before you come – things like capacity, timings on the day, food and drink options, accommodation for the bridal party and ask as much as possible
What do you think it is that sets your wedding venue apart from others?
Barony Castle is a unique venue set in the tranquil borders – it has perfect grounds for photos and the standard of service and quality of food is second to none.
Tell us something about your venue that you wish more people knew?
It's a family run venue.  We have a magical woodland Altar to say I do at, now that's unique.
Anything new/events happening at the venue you'd be keen to share?
We are able to offer exclusive packages for limited dates in 2024 and 2025